Founded in 1976 and headquartered in Langenzenn, Germany, Wohlrab accommodates several industries such as medical, automotive, optical, electronics and sensors. Decades of experience in coating technology and the continuous investment in state-of-the-art equipment allow us to push the boundaries of coating technologies further and further.
Apart from PVD and PECVD coatings, Wohlrab offers sophisticated robotic painting with connected dust-free chambers, pad printing with up to six colours, nano-coatings and plasma treatment. A particular strength is in surface treatments for hearing aids, where we supply many renowned leading global manufacturers. A broad spectrum of highly advanced technical methods & coating solutions allows us to fulfil a wide range of customer requirements, for instance, functional and or decorative enhancement of a component or improved economic viability & sustainability. With production in Europe and Asia, we expedite deliveries worldwide and ensure global competitiveness.
Cooperation with toolcraft AG
toolcraft is a pioneer of forward-looking technologies, such as additive manufacturing and the construction of customised turnkey robotics solutions. As a provider of comprehensive solutions, toolcraft covers the entire process chain, from the initial idea to manufacturing, quality assurance and testing in the areas of CNC machining, additive manufacturing, injection moulding, spark erosion (EDM) and mould making. Its clients include market leaders in the semiconductors, aerospace, medical technology, optical, special machinery manufacturing, motor sports and automotive industries.
Learn more about the cooperation between toolcraft and Wohlrab from our joint press release.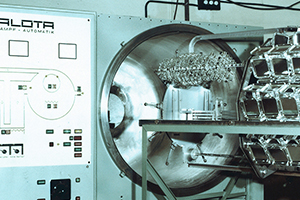 Wohlrab is a family-owned business for more than 40 years, binding tradition with innovation.
Shared values and visions define how we do business. Dedication and sustainability are integral parts of our corporate culture.
Wohlrab's presence in Asia goes back to 2011 with the opening of Wohlrab Asia Pte. Ltd. in Singapore and PT Wohlrab Indonesia in Batam, 2012.
We are very big on environmental protection: building insulation, use of sullage, heat exchangers and photovoltaics.